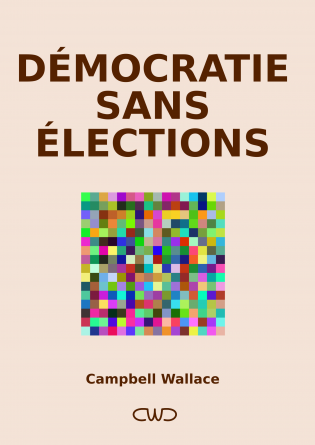 The latest edition of "Down with Elections! a plan for Democracy without Elections" is now available. The paperback is at https://www.amazon.com/DOWN-ELECTIONS-plan-DEMOCRACY-WITHOUT/dp/B0851M9H3F.
Users of this forum can obtain a free digital version (epub, mobi or PDF) directly from me (email to cwallace@free.fr).
Changes from the last published version (V3) are mainly explanatory, there are no major changes to the model of government proposed. (Changes from earlier versions are too numerous to list here.) Nothing I have seen or read recently has persuaded me that the overall design of the system proposed in the book needs changing, and events of the last few years – indeed of the last two hundred years – have only reinforced my opinion that we cannot have true democracy until we replace elected parliaments by ones chosen by lot.
Une version française est maintenant disponible (en broché) :
https://www.amazon.fr/démocratie-sans-élections-Campbell-Wallace/dp/B085R72PK5 (5,38 € + livraison)
ou
https://www.thebookedition.com/fr/democratie-sans-elections-p-372653.html (7,23€ + livraison)
On peut avoir la version digitale gratuitement en envoyant un mail à cwallace@free.fr.
Filed under: Books, Elections, Proposals, Sortition | Leave a comment »