A translation of an article from Le Figaro.
Replacing representative democracy with participative democracy is dangerous
Claude Sicard, economist and international consultant
July 6, 2020
Seeing his popularity ratings decline, Emmanuel Macron appeals to the French people for a reform. For this economist, the head of state's seemingly bright idea is a mistake because making decisions concerning the future of a country requires thorough study and the assistance of experts.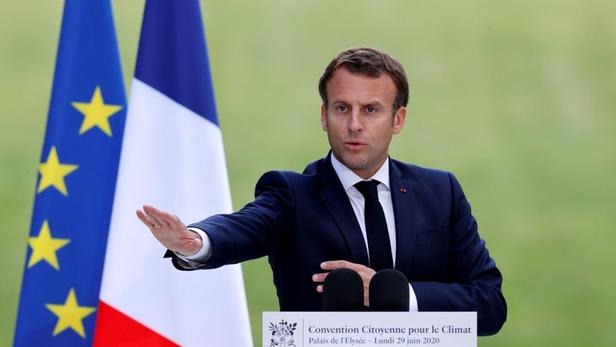 Macron at the Citizen Convention for the Climate at the Élysée, June 29, 2020.
The distance in our country between civil society and the institutions never stops increasing. In every democratic system it is the law that the majority prevails: the dominant fraction imposes its will on the minority, and the electoral moment is decisive for the duration of the mandate of the elected representatives. These principles are increasingly questioned these days. Minorities are increasingly unwilling not to be heard, and moreover they too often observe that the elected do not always have the virtues which they claimed to have during the campaign. Pierre Rosanvallon, a noted researcher of democracy, tells us that we are seeing in our modern democracies the rise of the "people as a judge". The "monitoring citizen", he says, is replacing the "voting citizen". In this way a tendency has developed in our modern societies toward the creation of "counter-democracies".
CEVIPOF surveys confirm this claim: 70% of the French think that in our country democracy "does not function very well", and assert that they have no confidence in the ability of members of parliament to address issues that the country is facing. The American political scientist Yascha Mounk, a Harvard professor, writes in his book The People vs. Democracy published in 2018 that "in North America and in Western Europe, a growing number of citizens are turning their backs on democracy: they are feeling that they have less and less influence over political decisions".
Continue reading →
Filed under: Academia, Books, Elections, Mass action, Opinion polling, Participation, Press, Sortition | Leave a comment »