What to save from the drifting French political system? The philosopher Jacques Ranciere was the guest of Aude Lancelin in "The war of ideas" of June 20th, 2017. Here is the transcript of this interview. Parts 1 and 2 of the translation are here and here. [My translation, corrections welcome. -YG]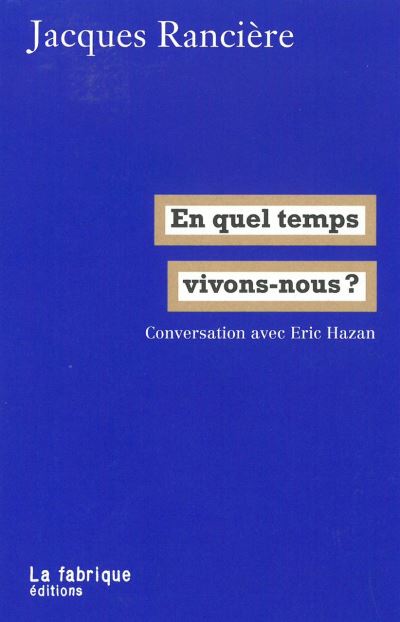 05. The question today is that of rethinking forms of organization, ways of being together for the long term, outside of the electoral forces.
Aude Lancelin: Your book is also a severe blow to those who today are pinning their hopes on the famous cortège de tête: the group of young people who clash with the police after the demonstrations. You have some ironic words on this subject. For you it is primarily a varnish of radicality which is applied to quite traditional demonstrations. The political meaning of all that and its future are not at all assured in your eyes. Do I misinterpret your thinking?
Jacques Ranciere: First thing: the cortège de tête is not simply the professional revolutionaries who think that it is necessary to radicalize the struggle and who radicalize the struggle by breaking shop windows. There are also people who think that breaking windows is the time of assembly of people who come from different horizons, who come from the political struggle or who come from delinquency in the suburbs, and who suddenly discover themselves. That is a way of gathering people that is classic anarchist or revolutionary politics, and suddenly the people that the movement appeals to and who are involved, who arrive with their own actions, their own revolt or their own ways, are coming first from the world of delinquency rather than from the world of politics. The cortège de tête are not simply people with a specific strategy. Another thing that I am trying to say is that the violent actions of the cortège de tête are also symbolic and not any more strategic in fact than the assemblies of the Nuit debout. Because, in fact, what is it that they are really doing? They take aim at symbolic targets; an ATM, a shop window, a nice car… But that is not at all a strategic action. There is this idea that it is necessary to radicalize, to create an irreversible situation. In my experience, that is not irreversible. It is not that some actions create an irreversible situation. I don't think that existing conditions create a great realignment. Basically, the question is knowing how to manage this interaction between gathering the greatest number and striking the enemy. But what does "striking the enemy" mean? I don't really know. I think that in the so-called "radical" thinking, there is always a double logic. On the one hand, the logic of confrontation ("we are going to confront them and it is through the confrontation that we rattle the enemy") and at the same time a logic of desertion ("if we secede the system will collapse"). In the texts of the Comité invisible there is always this double logic. I think that neither of those two logics is really proven. But I am not trying to give lessons, I am just responding to the questions.
Continue reading →
Filed under: Academia, Books, Elections, History, Participation, Press, Sortition, Theory | 1 Comment »