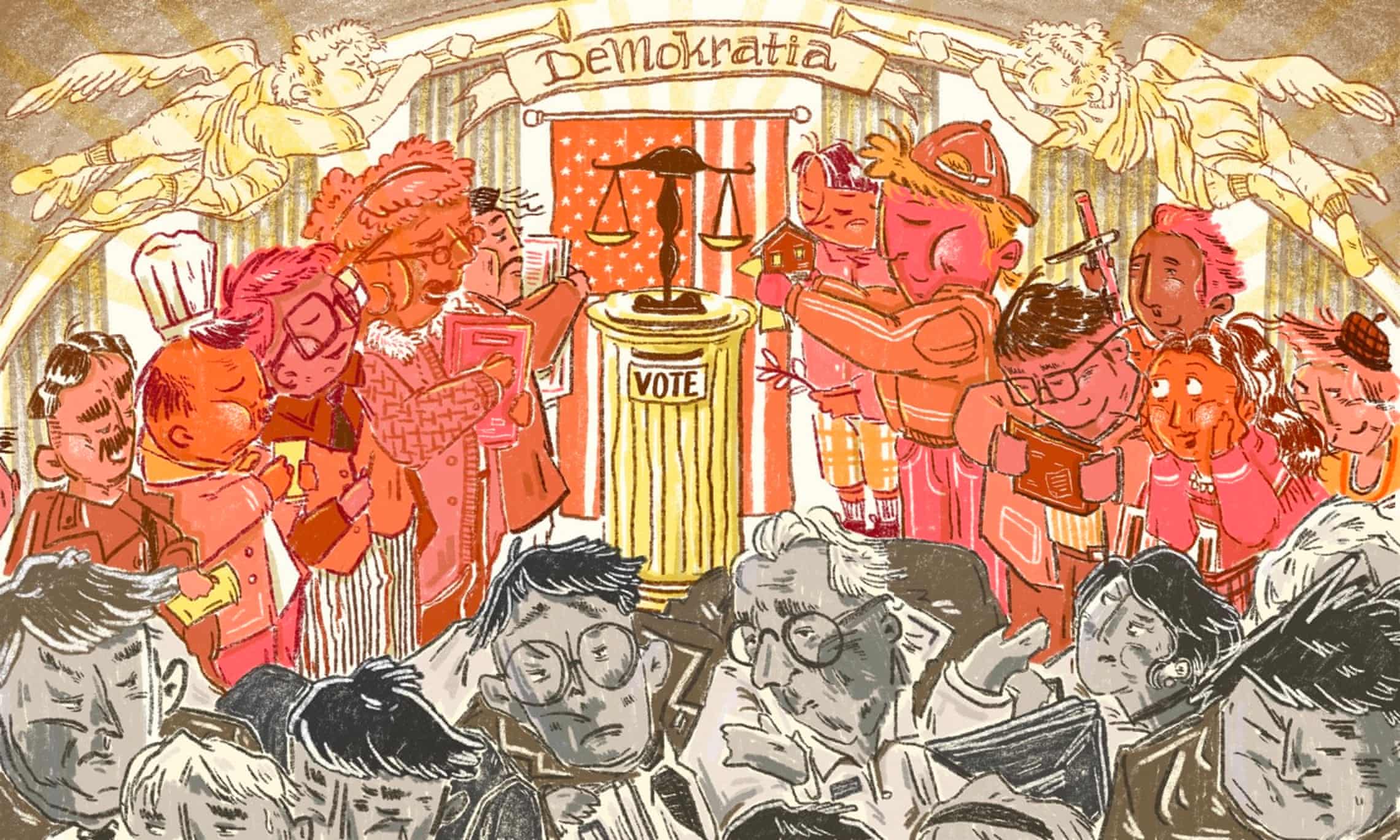 A piece by Eva Talmadge in The Guardian presents its audience with idea of sortition. To what extent such an article covers new ground for the reader would be interesting to try and find out. The article itself links to a 2018 Guardian article proposing a Brexit citizen assembly.
The article quotes some of the usual sortition suspects – Claudia Chwalisz, Peter MacLeod, and Peter Stone, and presents the standard deliberative rhetoric around citizen assemblies about how people are more informed and reasonable when they deliberate and about the potential of citizen assemblies "to help fractured societies not only work on complicated problems, but learn how to live with one another".
Sandwiched in, however, Chwalisz does contribute a quite subversive idea:
As the ancient Greeks and others recognized, elections are a way of constituting an oligarchy. When the French and American revolutions led to the establishment of the institutions that today we call democratic, the word 'democracy' was never used – the intent was for them to be oligarchic, concentrating power in the hands of the few.

This historical note, somehow, does not prevent the author from presenting, in the very next paragraph, the oligarchical nature of the electoral system as a recent development:
Today, when a run for Congress can come with a price tag starting at $400,000 (Senator Raphael Warnock of Georgia raised a whopping $26.4m for his run in the third quarter of 2022), the notion that government is run by the elite is pretty much a given. More than half of the members of the US Congress are millionaires. The same cannot be said of the participants in an average citizens' assembly.
The article soon returns to the wonders of deliberations (properly educated and moderated by the experts), terminating with the following indication of a bright future for citizen assemblies:
The minister of Canadian heritage, Pablo Rodriguez, found the assembly's process so compelling that he has requested an additional assembly to consider its findings. Legislation incorporating many of its recommendations is expected to be proposed in March.
Filed under: Academia, Applications, Press, Sortition |