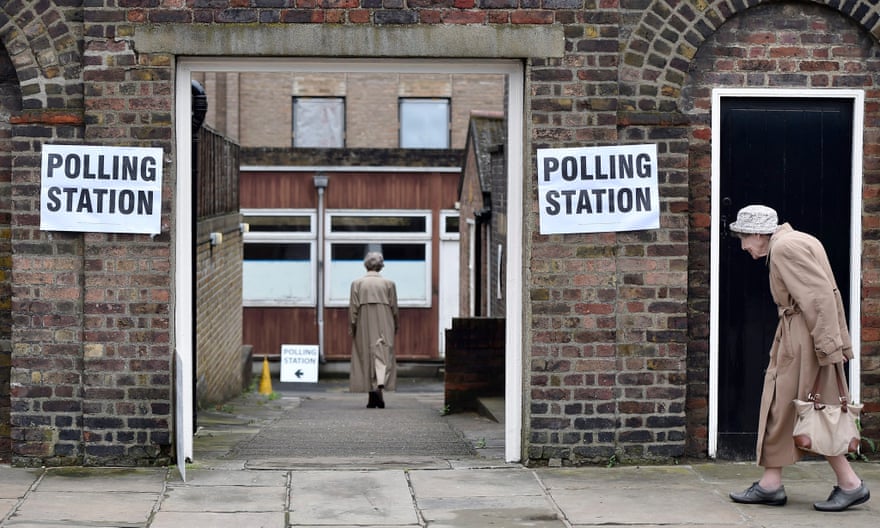 In the wake of the Brexit referendum David Van Reybrouck takes his "tired democracy" message to the readers of the Guardian:
Brexit is a turning point in the history of western democracy. Never before has such a drastic decision been taken through so primitive a procedure – a one-round referendum based on a simple majority. Never before has the fate of a country – of an entire continent, in fact – been changed by the single swing of such a blunt axe, wielded by disenchanted and poorly informed citizens.
Van Reybrouk now recounts the statistics showing low and falling citizen trust in elected institutions and offers a diagnosis of the problem. Avoiding the mention of any substantive complaints about the policies implemented by those institutions, for Van Reybrouk it is purely a matter of procedure. There is considerable vagueness whether the procedural problem was always there or is a new phenomenon. The risk, if things are not repaired, is that voters will continue to make transparently foolish choices.
In a referendum, we ask people directly what they think when they have not been obliged to think – although they have certainly been bombarded by every conceivable form of manipulation in the months leading up to the vote. But the problem is not confined to referendums: in an election, you may cast your vote, but you are also casting it away for the next few years. […]

Referendums and elections are both arcane instruments of public deliberation. If we refuse to update our democratic technology, we may find the system is beyond repair; 2016 already risks becoming the worst year for democracy since 1933. We may find, even after the folly of Brexit, that Donald Trump wins the American presidency later this year. But this may have less to do with Trump himself, or the oddities of the American political system, than with a dangerous road that all western democracies have taken: reducing democracy to voting.

By refusing to change procedures, we have made political turmoil and instability defining features of western democracy. Last weekend Spain had to hold its second general election in six months, after the first run did not deliver a government. A few weeks ago, Austria almost elected its first extreme rightwing president, while a Dutch referendum in April voted down a trade agreement between Ukraine and the EU. My country, Belgium, became the laughing stock of Europe a few years earlier, when it failed to form a government for 541 days. But nobody is laughing now that it seems that many western democracies are in the process of turning "Belgian".

Countless western societies are currently afflicted by what we might call "democratic fatigue syndrome". Symptoms may include referendum fever, declining party membership, and low voter turnout. Or government impotence and political paralysis – under relentless media scrutiny, widespread public distrust, and populist upheavals.

But democratic fatigue syndrome is not so much caused by the people, the politicians or the parties – it is caused by the procedure. Democracy is not the problem. Voting is the problem. […]

The words "election" and "democracy" have become synonymous. We have convinced ourselves that the only way to choose a representative is through the ballot box. After all, the Universal Declaration of Human Rights of 1948 states as much: "The will of the people shall be the basis of the authority of government; this will shall be expressed in periodic and genuine elections which shall be by universal and equal suffrage and shall be held by secret vote or by equivalent free voting procedures." […]

It would appear that the fundamental cause of democratic fatigue syndrome lies in the fact that we have all become electoral fundamentalists, venerating elections but despising the people who are elected. […]

Elections are the fossil fuel of politics. Whereas once they gave democracy a huge boost, much as oil did for our economies, it now turns out they cause colossal problems of their own. If we don't urgently reconsider the nature of our democratic fuel, a systemic crisis awaits. If we obstinately hold on to a notion of democracy that reduces its meaning to voting in elections and referendums, at a time of economic malaise, we will undermine the democratic process.
For those with the determination to make it past the first 2,700 words of his essay, Van Reybrouk offers sortition as an alternative to elections.
What kind of democracy is appropriate to an era of fast, decentralised communication? How should the government deal with all those articulate citizens who stand shouting from the sidelines? […]

People care deeply about their communities and want to be heard. But a much better way to let the people speak than through a referendum is to return to the central principle of Athenian democracy: drafting by lot, or sortition as it is presently called.
Mentions of Florence, and the Irish constitutional convention follow. And there is a lot for politicians to gain from adopting sortition.
By talking to a diverse cross-section of Irish society, politicians could get further than they could have by just talking to each other. By exchanging views with elected officials, citizens could give much more relevant input than they could have in an election or a referendum.

What if this procedure had been applied in the UK last week? What if a random sample of citizens had a chance to learn from experts, listen to proposals, talk to each other and engage with politicians? What if a mixed group of elected and drafted citizens had thought the matter through? What if the rest of society could have had a chance to follow and contribute to their deliberations? What if the proposal this group would have come up with had been subjected to public scrutiny? Do we think a similarly reckless decision would have been taken?
Sortition holds the promise, then, of making voters see sense. Those in power who are afraid of handing power to the masses should realize that if they do not want to see more Brexists and more Trumps, then sortition is their best bet. It is the way to reinvigorate the tired democracy that is so dear to our heart – to return to that golden age when the masses knew their proper place following their leaders' lead and adopting their leaders' priorities.
The arguments put forward against sortition are often identical to the reasons once put forward for not allowing peasants, workers or women to vote. Then, too, opponents claimed it would mark the end of democracy. Do we think Brexit might still have been possible if citizens had been truly invited to express their grievances and search for solutions together with those they had voted for?.

If David Cameron had opted for the genuine participation of citizens, he would have obtained a much clearer view of what people really wanted, a powerful list of shared priorities, an agenda for further negotiations, and created much less distrust between the masses and the ruling class. On top of that, he would have gained global admiration for daring to tackle a complex challenge by an innovative process that values people's voices instead of counting their votes. He could have set a new standard for democracy, rather than serving as its gravedigger.